Welcome to the Sydney School of Protocol
Australia's "go to" experts in modern etiquette and international protocol intelligence.

Graduates from young adults to corporate executives develop personal and professional skills that give them the composure and confidence to excel in a changing environment.



Offering a needs led approach to design, a range of unique services are available including; on line and off line master classes, educational events, seminars, tailor-made solutions and one-on-one private coaching.
Client Testimonials
The best parts of the Dine like an Executive program session were the interactive scenarios and situations where we practised what we learnt. The approach was refreshing and helped everyone to hone their skills and gain new tools and tips for business dining, hosting and becoming a perfect guest. We enjoyed the structure of the mastery session as a journey and how things were discussed in order of when they would be relevant in a business context. The highlights of the session were understanding how to enter a room, and enter and exit a conversation politely; the importance of composure and pacing yourself; as well as excellent table manners and hosting skills. Event Planet Australia Sydney February 2019
The best parts of the program session were: I enjoyed the structure of the sessions as they were organised in a way to build upon the individual's foundations. Each session focussed on a different area and was​ structured to improve and enhance the individual and to help present one's best self. I enjoyed the START - STOP - CONTINUE as it helped me visualise my progress and what I wanted to achieve. Throughout the course you are guided to appreciate your potential and attain polish and refinement in your actions and interactions.
I am so much appreciated the passion and care you demonstrated during the week. I have learned so much from your training that will assist me in my future workplace. Thank you for the wonderful training and new skills I have.
It has been an honor to be taught by the Sydney School of Protocol, led by yourself. We will be forever grateful for the skills you have given us to take through life.
Favourite part of the program: 'delving into my leadership style and working on strategies to improve myself both professionally and personally' Aspects I learned and didn't know before I started the program: 'perception is everything, how to enter a room, introductions the right way and concentrating on behaviours not the person when providing feedback'. I feel I got what I needed and more than I expected.
Thank you, Julie and the team of experts for sharing the wealth of knowledge and experience by covering a series of topics ranging from communication, style, career tools and dining etiquette. The lessons were up-to-date, practical and well presented. I appreciated that Julie customized the lesson structure and communicated well to monitor the progress. I feel much more confident now with the improved skill set I learned from the Sydney School of Protocol.
A pleasure to share our latest testimonial Career Advancement Mastery Two Day Program A unique training experience with relevant content and strategies for bringing about change and improvement. I thoroughly enjoyed the one on one experience, and thought the venue was entirely suitable for the learning. Thank you so much Julie making me feel so welcome and comfortable. The facilitators offered a variety of approaches and the learning was tailored to my needs. I appreciated the regular check ins and opportunities for reflection as we moved through the content.
Our Manager was very impressed with our training with SSOP. Indeed the session is also useful for ourselves in our daily life. The role-plays in different scenarios allow us to implement theories into real situations. The private session gives us hands-on trainings and instant feedback, which is way better than a group session. Four things I learnt I did not know before I started the session: 1. statistics related to protocol and human relations 2. differences between Chinese and Western etiquette 3. language or jargons in Western etiquette 4. appropriate responses under different circumstances 5. the way to present ourselves in an elegant manner, business introductions
Sessions with the Sydney School of Protocol gave students a new confidence in their ability to effectively navigate a variety of business situations and relationships. They learnt about what it means to be a global corporate citizen, interacting with authenticity and integrity. Student's testimonials: "This study tour provides students with knowledge and skills to prepare them for their professional lives and to be competitive in a global corporate environment". "It undoubtedly helps students stand out with experience and knowledge other students would not have". "The study tour has helped in opening my mind up to learning and developing myself, to think about my career as a journey that I am in control of". "The program has heightened my self-awareness. My personal presentation has improved enormously after this experience". "The biggest skills I've developed through this study tour were the transferable skills, communication, teamwork and networking. Skills we would need in any industry we end up working in".
Within a week, I gained a new perspective on my career pathways and learnt how I could succeed in the corporate world. I therefore feel this tour is valuable for students who want to gain a 'kick-start' in their corporate career and learn skills that cannot be taught in a classroom setting.
The private coaching was immensely helpful in polishing up on my business and social etiquette skills including networking, dining, communications, image and presentation and making a positive first impression.
Every minute of the training made me more of aware of my behaviour and manners and this will help me to provide excellent service to our clients. The customers experience is paramount and creating a work ethic so everyone is on the same page to support this was invaluable. The whole program has been great and for anyone in the industry.
The one on one coaching improved my confidence immensely, equipped me with the right professional and social etiquette skills, enabled me to present myself with ease in networking functions, enhanced my image and reputation in the business world, transitioned from just being 'functioning' to 'flourishing' at work. Words can't express how grateful I am for all the help and support that I received from Julie and her team.
Thank you Julie and team for your expert advice and instruction during our team's completion of your Dine Like a Diplomat masterclass. We took away a refinement of critical etiquette skills which are invaluable in working in today's multicultural business landscape. A worthwhile investment to ensure the team puts their best foot forward in both business and social contexts.
"Had I picked up only a quarter of what I learned from the Sydney School of Protocol's Finishing and Dining course, it still would have been entirely worth the investment. Julie and Ariel are both naturally polished people with much to offer, and Julie (who founded the School) with her deep experience in etiquette is switched on to the nuances of modern business and social situations. The location and overall quality of the experience is excellent. " 
Kate - Change Manager, Special Winter Edition Finishing Program  
Discovery Programs
via Online Training 
Thinking of pivoting your career in our new workplace and business environment? 
For those unable to participate in our face to face training Discovery programs we also offer you training via online video 
This program is designed for Executives & Professionals
 Click here for the Program Outline and Outcomes 


 Discovery Program Testimonial | Jenny Jiao 
  Western Business Etiquette, Image & Presentation
A pleasure to host our participants, an enthusiastic and professional Bank of China teams in both Sydney & Melbourne. 
An interactive program focused on Western business etiquette, personal brand, image and presentation. A program designed for taking away tangible, global corporate soft skills that can be put in place immediately.



We work with the Bank of China


Global Corporate Citizen 
We are excited to announce a partnership with DNC Career Consulting. Together we have developed a unique "Australia Local Workplace Bootcamp". This Global Corporate Citizen program will help Chinese graduates understand Western culture, gain a competitive advantage and succeed in the Australian workplace.
悉尼国际礼仪学校同 DNC Career Consulting 合作联手打造 澳大利亚2020职场小白助力营。
帮助中国留学改变学生思维,跳出舒适圈,提高专业度,最终实现毕业后无缝对接澳洲主流职场。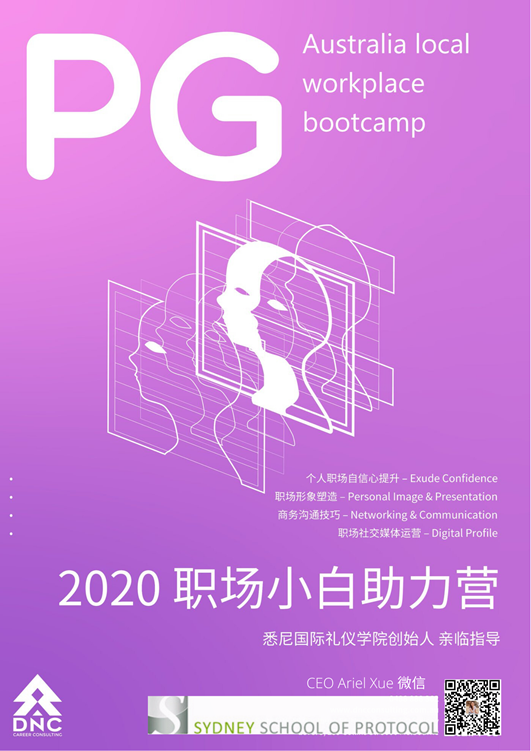 To find out how the Sydney School of Protocol can deliver a tailored solution for your organisation and business. 
Speak to our etiquette and protocol experts: + 61 452 553 855
The Founder
Julie brings over 20 years of proven experience in building brands and transforming individuals.
Her career began in education with a Diploma of Education and Teaching along with five years of practical experience.
A strong educational leader, playing key roles in service strategy, design and development, brands and marketing. As Head of Customer Experience Delivery at Qantas Airways Julie drove strategic initiatives to develop a cross company focus, which included creating a Centre of Service Excellence to host all service training and development. 16,000 staff participated in an experiential learning program linking the brand, service and people.
Julie is a graduate of the Protocol School of Washington® and is passionate about bringing Business Etiquette, International Protocol and Customer Service skills development to individuals and groups to help them excel in any area of life including business and social environments.
HAVE YOU THOUGHT ABOUT
HOW YOUR PERSONAL BRAND
IS PERCEIVED?
We invite you to explore the Personal Brand Self Audit and discover your true potential and the opportunities for enhancing and refining your brand.