Welcome to the Sydney School of Protocol
Australia's "go to" experts in modern etiquette and international protocol intelligence.

Graduates from young adults to corporate executives develop personal and professional skills that give them the composure and confidence to excel in a changing environment.


Offering a needs led approach to design, a range of unique services are available including;
on-line and off-line
 master classes, educational events, seminars, tailor-made solutions and one-on-one private coaching.
"Had I picked up only a quarter of what I learned from the Sydney School of Protocol's Finishing and Dining course, it still would have been entirely worth the investment. Julie and Ariel are both naturally polished people with much to offer, and Julie (who founded the School) with her deep experience in etiquette is switched on to the nuances of modern business and social situations. The location and overall quality of the experience is excellent. " 
Kate - Change Manager, Special Winter Edition Finishing Program  
New Programs for the New World 
The Sydney School of Protocol is offering two new unique, on-line programs. An introductory, Discovery Mastery Series and a program specifically tailored for those considering a Career Pivot and change in direction.
 
  Western Business Etiquette, Image & Presentation
A pleasure to host our participants, an enthusiastic and professional Bank of China teams in both Sydney & Melbourne. 
An interactive program focused on Western business etiquette, personal brand, image and presentation. A program designed for taking away tangible, global corporate soft skills that can be put in place immediately.



We work with the Bank of China


 Global Corporate Citizen 
We are excited to announce a partnership with DNC Career Consulting. Together we have developed a unique "Australia Local Workplace Bootcamp". This Global Corporate Citizen program will help Chinese graduates understand Western culture, gain a competitive advantage and succeed in the Australian workplace.
悉尼国际礼仪学校同 DNC Career Consulting 合作联手打造 澳大利亚2020职场小白助力营。
帮助中国留学改变学生思维,跳出舒适圈,提高专业度,最终实现毕业后无缝对接澳洲主流职场。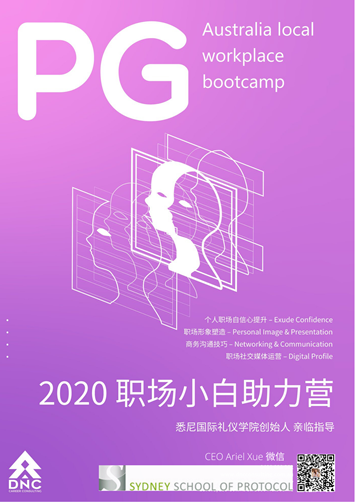 To find out how the Sydney School of Protocol can deliver a tailored solution for your organisation and business. 
Speak to our etiquette and protocol experts: + 61 452 553 855
The Founder
Julie brings over 20 years of proven experience in building brands and transforming individuals.
Her career began in education with a Diploma of Education and Teaching along with five years of practical experience.
A strong educational leader, playing key roles in service strategy, design and development, brands and marketing. As Head of Customer Experience Delivery at Qantas Airways Julie drove strategic initiatives to develop a cross company focus, which included creating a Centre of Service Excellence to host all service training and development. 16,000 staff participated in an experiential learning program linking the brand, service and people.
Julie is a graduate of the Protocol School of Washington® and is passionate about bringing Business Etiquette, International Protocol and Customer Service skills development to individuals and groups to help them excel in any area of life including business and social environments.
HAVE YOU THOUGHT ABOUT
HOW YOUR PERSONAL BRAND
IS PERCEIVED?
We invite you to explore the Personal Brand Self Audit and discover your true potential and the opportunities for enhancing and refining your brand.