Global Corporate Citizenship
a gateway to success in business and in life
The world is experiencing a rapidly expanding global economy with an increasingly competitive job market. Having a University degree alone no longer sets students up for success in the workforce.
Studies by Harvard University, The Carnegie Foundation and Stanford Research Institute have shown that 85% of success in getting a job, keeping a job, and moving up in an organisation is due to people or "soft skills". Technical skills and knowledge only account for 15% of the reason to hire candidates.
Building relationships is a key foundation for success. Navigating complex business and social relationships, locally and in different countries requires a level of proficiency in global etiquette and protocol intelligence. Being intuitive and culturally sensitive to many different personality types, styles and environments adds value to each individual's personal and company brand. It is a matter of know how.
In this global environment professional and personal skills are vitally important. On this basis, we welcomed top performing students and staff members of the University of Adelaide to Sydney.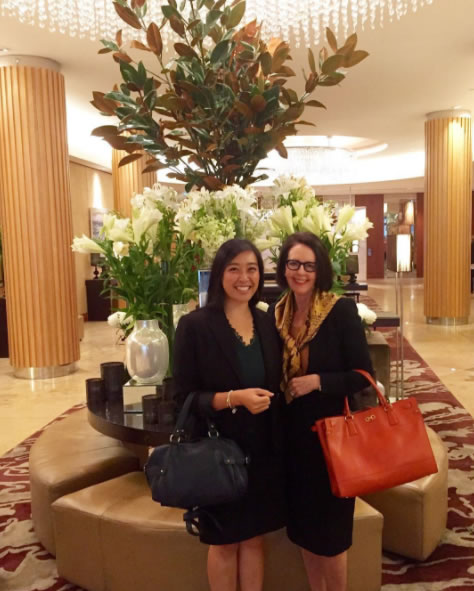 MARLOUS TEH AND JULIE LAMBERG-BURNET  DURING A SITE INSPECTION AT THE SOFITEL SYDNEY WENTWORTH
The Sydney School of Protocol had the pleasure to host top performing students and University professionals from the University of Adelaide Business School as part of the Global Corporate Citizenship Sydney Study Tour.
The program was designed by the Sydney School of Protocol to help students explore character, ethics, personal brand, and help them advance in their global corporate careers. A five day program was lead by the Sydney School of Protocol Team of Experts and presented five key topics.
Personal Brand and Sparking the Entrepreneur Within
Branding and Success, Personal Brand Audit, Bringing out Your Unique Values, Building your Personal Brand Reputation, First Impressions and Introducing Yourself and Others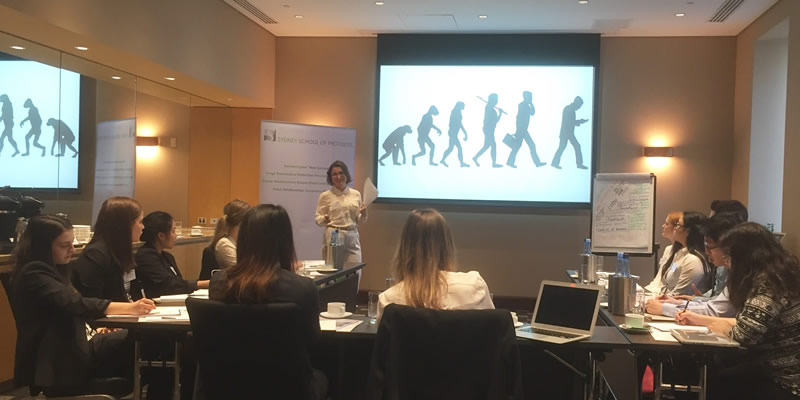 SIMONE PAPPALETTERA FACILITATING BRINGING OUT YOUR UNIQUE VALUES AND FIRST IMPRESSIONS
Means of communications have vastly changed the landscape in which we interact and build relationships. Looking at various elements of communications and how they impact the networks and engagement we create, we designed day two as a focus on communications - face to face, written and digital platforms were discussed.
Communicating Your Business Aspirations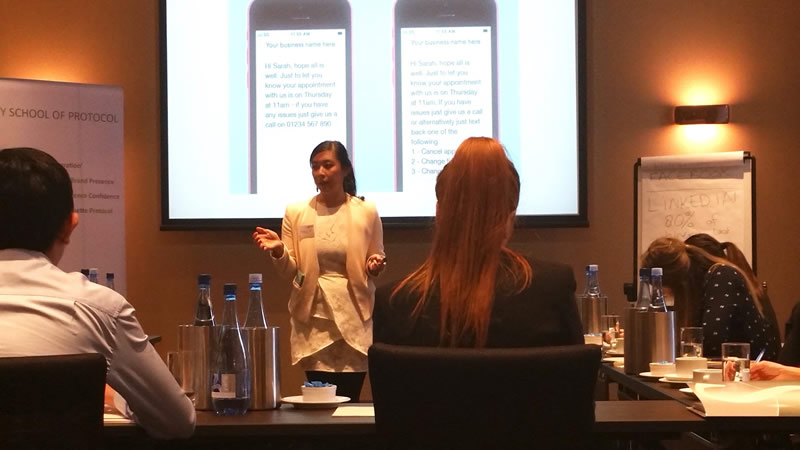 MARLOUS TEH FACILITATING THE DIGITAL AND OFFLINE COMMUNICATION ETIQUETTE SESSION
Public Speaking, Selling Yourself, Communication Techniques and Tools, Body Language, Business Etiquette, Digital and Offline Communication Etiquette, International Protocol, Cross Cultural Richness, Face-to-Face Meetings & Negotiations.
Research has indicated that positive first impressions are a key ingredient to building successful relationships. Consequently, faux-pas in dress and grooming are the main reason for missing the mark on a great first impression. This is why we brought in the experts on day three to share key tips on well being, image and presentation.
Wellbeing, Image and Presentation
Finding your Balance in Life, Health, Skincare and Hair Care, Grooming, Wardrobe Styling, Presenting yourself in Business and Social Settings, Essentials for Dress Codes (from smart casual to business cocktail), Creating Your Own Personal Style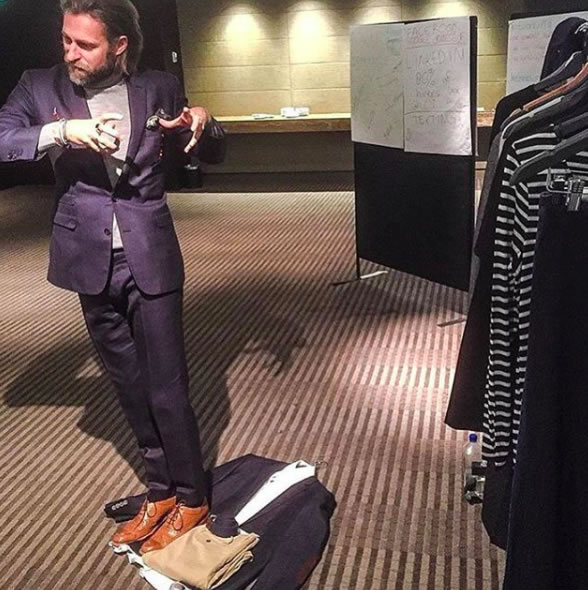 JEFF LACK, STYLIST: 'DO AS I SAY, NOT AS I DO. TEACHING MY STUDENTS THE VIRTUES ON FLATLAYS WHILST STANDING ON MY CLOTHES..'
With the business environment changing and blending in with social events and occasions, it is essential to feel confident around the dining table and in social settings. Thus the dining experience and networking sessions on day four was the opportunity to put these learnings into practice.
Dine Like An Executive and Industry Network Experience
Sofitel Sydney Fine Dining Experience, Dining Etiquette, Difficult Foods, Navigating the Table, Conversing Socially and For Business, Round Table Discussion on Asia Capabilities and Opportunities with the  Australia China Business Council in Sydney.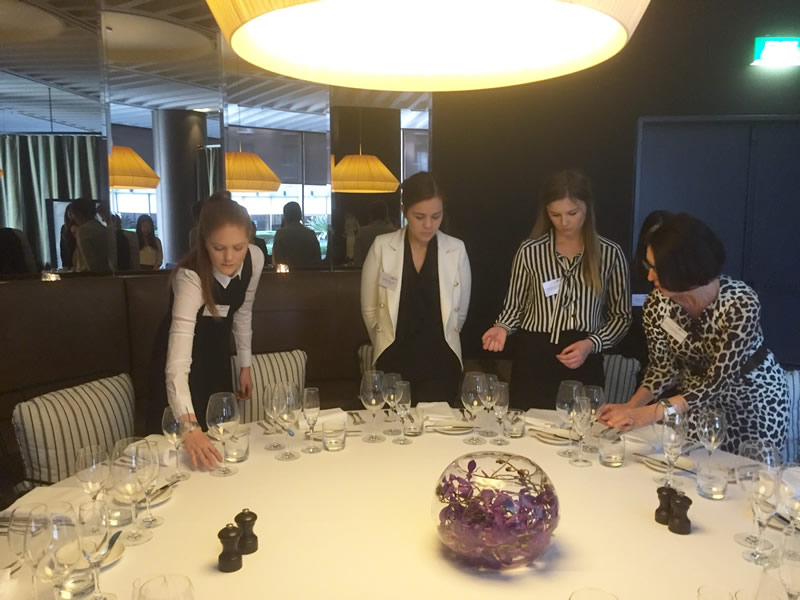 FOUNDER JULIE LAMBERG-BURNET GUIDING THE PARTICIPANTS ON HOW TO BE A GREAT HOST AND SETTING THE TABLE FOR YOUR GUESTS
And the final day…
Business Insights Speaker Series and Graduation Cocktail
Reflection on Networking and Application of Learning, Speaker Event with Panel of Business Experts. The program concluded with a Graduation Cocktail Session applying Life Skills, at a private residence overlooking the Sydney Harbour Bridge and the Opera House.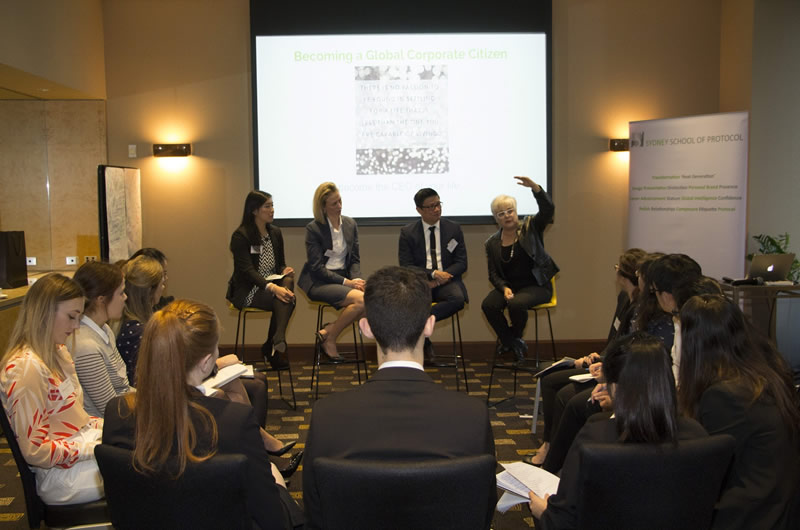 BUSINESS INSIGHTS SPEAKER PANEL WITH MARLOUS TEH (MC) IMOGEN GEISSLER (NAB ASSET MANAGEMENT), COLIN LEE (BUS OF BOOKS) AND VICTORIA KEESING (VK CONSULTING AND FURNITURE DESIGN) AT THE SOFITEL SYDNEY WENTWORTH.
The five day program was hosted at the Sydney School of Protocol's venue partner, the Sofitel Sydney Wentworth and certainly put students to the test.
The participants were given the opportunity to apply the skills learned in round table discussions, networking sessions and meetings with companies including Australia China Business Council, Gadens Lawyers, ANZ, Commonwealth Bank, McKinsey Consulting and other multinational firms that were organised in conjunction with the University of Adelaide.
It is always fantastic to see the energy and excitement that these intense programs bring. Having long days and evenings back to back with organised speaker seminars, interactive workshops, networking activities, corporate visits, and a graduation cocktail, the participants were phenomenal.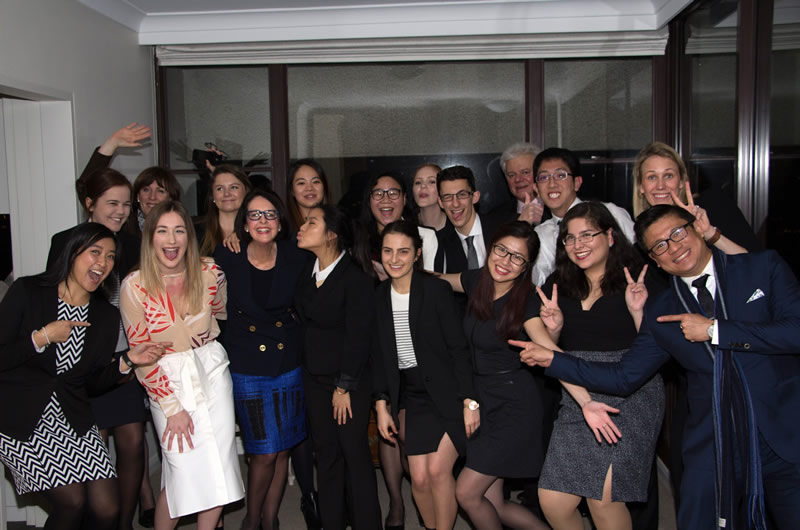 Thank you to Leah Hill, Director of the Faculty, Anna Cosentino, Business Development Manager of the University of Adelaide Business School, and David Pender, Senior Adjunct Lecturer at the Management School of the University of Adelaide.
Thank you to our contributors Victoria Keesing, former partner at PwC and Founder at Victoria Keesing Consulting, Imogen Geissler, Head of Finance NAB Asset Management and Colin Lee, National Sales Director at Property International Ltd and Founder of Bus of Books.
For enquiries about the Sydney School of Protocol Global Corporate Citizenship program for your organisation or a delegation, please email julie@sydneyschoolofprotocol.com.au