The Art of Dining and Entertaining
An interactive 3 hour Mastery workshop designed for individuals, families, couples, business executives, graduates and young adults. Invite either a group of friends or colleagues for a fun, interactive master class and learn the art of dining. A life skill worth investing in.
Also suitable for team building and as a learning tutorial for either your next conference or employee development program. Form a group of five or more participants and we can provide you an experience to suit your needs.
Course outline:
Corporate & home entertaining
Host & guest duties
Table settings
How to navigate the table setting
Taking a seat
Conversation
Posture at the table
American, Continental and Asian dining styles
How to use the cutlery
The courses and how to eat them
Eating difficult foods
Wine knowledge, tasting and ordering
Conversational skills
Host and guest etiquette and more…
Available as a Gift Voucher

Call Julie on 0452 553 855 to discuss program, group bookings and private coaching.

Quotations available on request.

Testimonials
It was lovely to meet you and thank you so much for the session for the team last week. We all thoroughly enjoyed it and learned a lot.
Corporate Client


Thank you, Julie and team, for your expert advice and instruction during our team's completion of your Dine like a Diplomat masterclass. We took away a refinement of critical etiquette skills which are invaluable in working in today's multicultural business landscape. A worthwhile investment to ensure the team puts their best foot forward in both business and social contexts.
Corporate Sales Manager
It was a delightful experience for our family, from the hosts, to gorgeous food and the etiquette we learned. The kids had some initial reservation, understandably because this was not an every day event parents would have their children participating in. But in the end they admitted they did take away new understanding and valuable skills. I think, with modern parents' willingness to spend on their children's education, extracurricular skills from sport to music etc. this should be another skill to invest in. This will open up the children's mind and knowledge, helping them to develop into the global citizens essential for their adult lives and future careers. Also instructions coming from an outside source definitely have a stronger impact on the children's acceptance. Thank you very much Julie
Family Dining Experience - Baotram Lam
Available as a Gift Voucher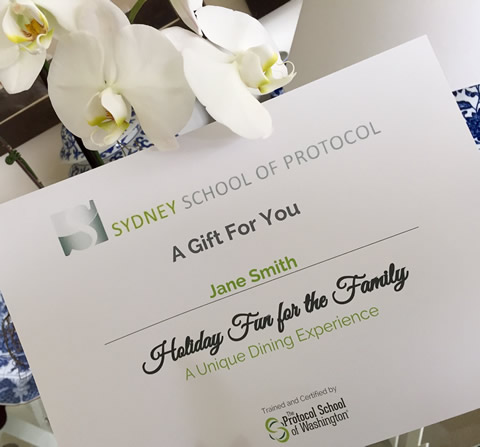 Family Etiquette

Parent and grandparents, do you sometimes feel your children and grandchildren are at a disadvantage because they do not know the rules of proper etiquette?

Enjoy a dining experience at the Sofitel Wentworth Hotel as a family and learn the art of dining, table manners, social etiquette tips and much more. A three hour interactive program for the entire family .
Testimonials


I liked the practical nature of the course. It was not lecture style but rather question and answer and conversational. Three things I learnt that I didn't know before are: leave the table from the right, enter from the right, don't start bread until entree is served. Now that I have completed the course with my family I feel that my family has a new respect for table manners and etiquette. I would recommend this course to everyone. It should be taught in schools as part of basic social skills. Thank you again for a wonderful experience.
Dine like an Executive Master Class hosted at the Sofitel Sydney Wentworth Hotel


For more details on the Specialised Master Classes or to discuss arranging a group master class or tutorial contact
Julie Lamberg-Burnet on +61 452 553 855 or email julie@sydneyschoolofprotocol.com.au