Welcome to the Sydney School of Protocol
Australia's "go to" experts in modern etiquette and international protocol intelligence.

From professionals advancing on a career path or considering a change in direction, to graduates, young adults and corporate executives, we help develop personal and professional skills that give our clients the composure and confidence to excel in a changing environment.


Offering a needs led approach to design, a range of unique services are available including;
online and offline
 master classes, educational events, seminars, tailor-made solutions and one-on-one private coaching.
Discovery Program & Smart Communications
Linda Lou
Linda joined our popular Discovery Program Series in 2019 and followed up with a Mastery session in 2020  in Smart Communications. Linda was seeking to enhance her techniques and tools for effective video interviews.  
We congratulate Linda on her latest interview segment on the "Insider" chatting with Anita Savage, a highly experienced broadcast journalist and the first News Director of Hope Media Limited - HOPE 103.2FM 
---

Women in Front Program 
Are you struggling to re-enter the workplace or pivot your career during the pandemic? 
Recent studies highlight the challenges women in either mid-career or who the market defines as "middle-aged" are experiencing in responding to the needs of the current job market  Whether you are either re- entering the business market or considering pivoting your career, fine tuning your soft skills and gaining new tools will increase your chances of successfully achieving what you desire for your future. 
Join Julie Lamberg-Burnet, accredited by the Protocol School of Washington, for a uniquely tailored Women in Front series of mastery modules to support you to enhance your personal brand and reputation. Through a practical and research based mastery experience, you will elevate your understanding of how to build a personal brand and how to create alignment with a business brand. You will gain tools for building your confidence, for developing your presence, and to help you understand and use the subtle social nuances that help to build successful personal and professional relationships.
This mastery program will enable you to communicate and interact with others to build confidence and increase trust. You will learn how to manage expectations, develop a strong network and personal brand. Armed with those skills you will be well prepared for seeking out and exploring the current exciting opportunities in the market place. 
You will be inspired to:
Use your new confidence and insight to step forward

Define new goals and to plan how to achieve them

Audit and develop your Personal Brand
Refresh your Personal Portfolio - Resume & LinkedIn profiles

Exude presence and confidence

Present a polished and professional image

Communicate potent and consistent messages off-line and on-line

Reconnect with your network
You will learn tangible skills and how to:
Build on your strengths and identify weaknesses

Transfer and transition skills for new roles

Understand how to build rapport and relationships

Control first impressions, eye movements, and non-verbal signals

Mingle, introduce yourself and others

Make small talk and interact with ease

Network effectively and confidently

Be confident and composed during interviews
Women in Front 2021
Private Coaching - Limited to Two Participants 
Total 4 Hours 1000 – 1400
Exclusive Fee: $1100 (+GST) per participant
Contact Julie Lamberg-Burnet at julie@sydneyschoolofprotocol.com.au for more information or book for a complimentary needs analysis.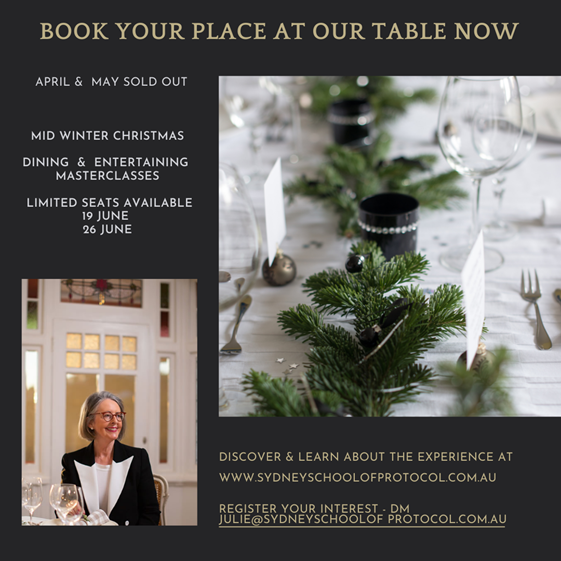 ---
Online Programs 
The Sydney School of Protocol is offering two new unique, online programs. An introductory, Discovery Mastery Series and a program specifically tailored for those considering a Career Pivot and change in direction.
 Western Business Etiquette, Image & Presentation
A pleasure to host our participants, an enthusiastic and professional Bank of China teams in both Sydney & Melbourne. 
An interactive program with both face to face and online mastery programs focused on Western business etiquette, personal brand, image and presentation.
A program designed for taking away tangible, global corporate soft skills that can be put in place immediately.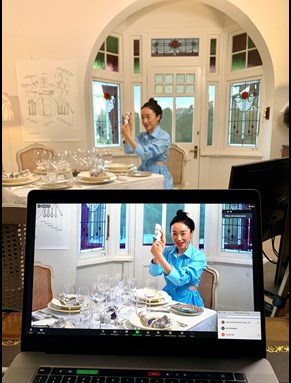 We work with the Bank of China


To find out how the Sydney School of Protocol can deliver a tailored solution for your organisation and business. 
Speak to our etiquette and protocol experts: + 61 452 553 855
The Founder
Julie brings over 20 years of proven experience in building brands and transforming individuals.
Her career began in education with a Diploma of Education and Teaching along with five years of practical experience.
A strong educational leader, playing key roles in service strategy, design and development, brands and marketing. As Head of Customer Experience Delivery at Qantas Airways Julie drove strategic initiatives to develop a cross company focus, which included creating a Centre of Service Excellence to host all service training and development. 16,000 staff participated in an experiential learning program linking the brand, service and people.
Julie is a graduate of the Protocol School of Washington® and is passionate about bringing Business Etiquette, International Protocol and Customer Service skills development to individuals and groups to help them excel in any area of life including business and social environments.
HAVE YOU THOUGHT ABOUT
HOW YOUR PERSONAL BRAND
IS PERCEIVED?
We invite you to explore the Personal Brand Self Audit and discover your true potential and the opportunities for enhancing and refining your brand.